Alfa Laval magnetic mixers maximize product yield in biotech, pharmaceutical and other aseptic applications with high hygienic demands. The unique levitating impeller design enables effective mixing right down to the last drop.
Maximum yield magnetic mixer
Alfa Laval magnetic mixers represent a breakthrough in mixing technology. The unique levitating impeller design allows the mixer to operate under dry conditions, making it possible to mix down to the last drop. This minimizes product loss, which may positively impact process economy. In biotech and pharmaceutical applications, where product is particularly valuable, these savings can pay back the initial cost of investment, including the mixer, installation, testing and revalidation, in just a matter of weeks.
Wide range of speeds
The levitating impeller design eliminates friction, making it possible to mix at speeds ranging from 10 to 600 rpm. The 4 sizes of mixers enables the flexibility to handle a wide range of fluid types and mixing duties, such as high intensity mixing and gentle product mixing.
Gentle product treatment
The unique eight-wing design of the impeller delivers efficient mixing at very low speeds. This ensures the most gentle product treatment possible with very low share forces.
Unparalleled hygiene, optimized operation
The magnetic mixer range offers unparalleled hygiene due to its levitating impeller design. The mixer rotates at very low rpm during cleaning, resulting in a more effecient cleaning. Because there are no entrapment areas, the magnetic mixer can be completely drained of product and cleaning solutions. The open design also ensures full coverage by the cleaning solution and contributes to efficient removal of product residues. The lack of friction also minimizes product contamination from wear particles.
Fully documented
Alfa Laval MM UltraPure magnetic mixers are backed by the assurance of our comprehensive documentation package, securing safe material and full traceability.
Product Benefits
Maximum yield magnetic mixer

Minimizes product loss

Wide range of speeds
Katalóg produktov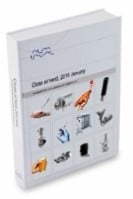 Aktuálne on-line verzia katalógu produktov
Radiálna turbína v nádrži sa otáča krútiacim momentom cez magnetickú spojku. Tým sa zabezpečuje premiešavanie kvapaliny v nádrži. Patentovaná levitujúca konštrukcia obežného kolesa zabezpečuje možnosť úplného vypustenia mixéra a suchej prevádzky, takže umožňuje využitie aj poslednej kvapky a maximalizuje prevádzkovú výťažnosť.
Unikátna konštrukcia magnetickej spojky Alfa Laval zaisťuje trvalé vznášanie sa obežného kolesa. To umožňuje kompletné vypustenie prevádzkových kvapalín a voľný prietok čistiacej kvapaliny a pary okolo všetkých častí mixéra, čím sa zaistí dôkladné vyčistenie. Vznášanie sa obežného kolesa súčasne eliminuje axiálne opotrebovanie.
The unique design of the Alfa Laval magnetic coupling ensures the levitation of the impeller at all times. This enables the complete drainability of process fluids and the free flow of CIP liquid and steam around all parts of the mixer, thereby ensuring thorough cleaning. Impeller levitation also eliminates axial wear.
The eight-winged impeller design ensures balanced operation at very low speeds and minimize wear of the bearings (2). Male bearings can easily be replaced with a bearing tool.