Sustainable palm oil mill effluent (POME) treatment has never been more difficult. Traditional treatment methods place demands on millers, particularly in the face of strict environmental regulations. Drawing from our knowledge of evaporation and separation technologies, Alfa Laval has developed unique approaches to solve today and tomorrow's POME challenges. Discover a range of solutions to cost-effectively comply with local requirements – and boost your profitability in the process.
Alfa Laval POMEVap: palm oil effluent treatment to eliminate ponding
Sustainable POME treatment without traditional ponding, meeting relevant environmental standards
Flexible solutions that can be easily incorporated into new mill designs or retrofitted in existing installations
New business opportunities to convert palm oil mill effluent solids into animal feed or fertilizer for new sources of revenue
Possibilities to recover a portion of the palm oil in the POME and thereby increase the profitability of your mill
Innovation based on Alfa Laval's proven, reliable thermal and separation technologies used for decades in a huge range of industries
POME composition includes water, oil and suspended solids. Acidic and rich in organic content, POME contaminates watercourses and produces greenhouse gases when a ponding system is used. Alfa Laval has taken a radical new approach to this challenge with POMEVap and POMEVapPlus. Unlike conventional ponding systems, these space-saving solutions enable sustainable POME treatment. Using proven Alfa Laval technologies, they separate POME into clear water and solid sludge streams. The sludge can be processed to create valuable by-products. The separated clear water can be further treated or discharged. Alfa Laval can also offer a zero liquid discharge solution to recycle separated clear water, helping mills meet more stringent environmental requirements.
A one-of-a-kind solution to POME treatment
Alfa Laval POMEVap and POMEVapPlus are innovative solutions unlike anything else on the market today. Compare the different solutions with conventional ponding techniques to discover how our technologies can create new opportunities for more profitable POME management in your mill.
Conventional palm oil mill effluent ponding systems
For POME treatment, palm oil mills have traditionally relied on ponding systems that take up a huge amount of space and involve both anaerobic and aerobic biological processes. The anaerobic process generates methane (greenhouse gas), emitting it into the surrounding atmosphere. This has led some governments to mandate the costly addition of a methane capture facility. Further, the treated effluent from ponding may not meet stringent biological oxygen demand (BOD) limits or discharge colour requirements.
Alfa Laval POMEVap
POMEVap is based on Alfa Laval's well-established AlfaFlash forced circulation plate evaporator technology. In contrast to ponding systems, POMEVap is a compact installation that minimizes space concerns. The evaporator separates the POME into solids and a clear liquid stream, thereby eliminating generation of methane to the atmosphere and minimizing BOD in separated water. Separated clear water can be discharged outside the mill or further treated to meet effluent discharge standards of local regulations. Through processing, the solids can be used to produce new sources of revenue such as animal feed or fertilizer.
Alfa Laval POMEVap for POME treatment
In addition to all the benefits of the standard POMEVap, POMEVapPlus offers new possibilities to recover more palm oil by combining AlfaFlash evaporation technology with the Alfa Laval PANX decanter. The evaporation step significantly increases the concentration of oil in POME, enabling maximum recovery of oil through the use of the decanter. Along with the by-products generated by the POME solids, the increase in oil yield can create a new revenue stream for your mill.
Improved efficiency for POME treatment ponding systems
With a comprehensive range of palm oil solutions, Alfa Laval can also support mills with existing ponding systems to help you optimize the operation of your current set-up. The Alfa Laval ALDEC decanter, for example, is a proven, cost-effective and reliable solution for removal and dewatering of digested solids from anaerobic and aerobic ponds.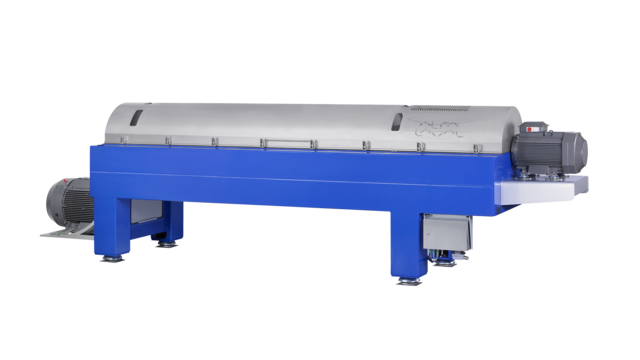 POME treatment - explore the Alfa Laval POMEVapPlus
A. POME
The dilute raw POME is fed to the POMEVapPlus system. The typical composition of raw POME is 5% NOS (Non-Oil Solids), 1% oil and 94% water.
B. AlfaFlash plate evaporator
The AlfaFlash plate evaporator is specially designed to handle challenging and fouling liquids like POME. Alfa Laval's unique corrugated plates and carefully designed recirculation flow rates creates high turbulence (shear rate) within the plates resulting in a significant lower fouling rate, efficient heat transfer, and higher up-time. The AlfaFlash plate evaporator splits the POME into water vapour and solid concentrate.
C. Cyclonic separator
A high-efficiency cyclonic separation vessel separates the mixture of water vapours from solid concentrate. The water vapour is separated at the top outlet and the solid concentrate is collected at the bottom outlet.
D. Separated water vapours
The separated water vapours at the top outlet of cyclonic separator are condensed to get the process condensate which is clean and can be re-used after further treatment.
E. Recirculation pump
The recirculation pump provides a high flow rate to ensure turbulent flow of the liquid inside the heat exchanger, which keeps solids moving in suspension.
F. PANX
The Alfa Laval PANX-series of decanter centrifuges decanter assists to achieve maximum separation oil recovery from solid concentrate with lower energy requirement.
POMEVap: How it works
The POMEVap system can be designed using a thermal heat source such as motive steam from turbine exhaust or using electricity, with number of effects depending on the capacity requirements and amount of steam/power available on site. Watch this video to learn more.
Get new insights into POME treatment
Want to better understand the issues mills face when it comes to POME treatment? Looking to see how new technologies can help your palm oil business overcome challenges and achieve greater profitability? In this webinar, Alfa Laval evaporation specialist Amol Hukkerikar shares knowledge about modern solutions for treating POME and the benefits they can bring to palm oil mills.


So spoločnosťou Alfa Laval je zariadenie len začiatok. Ako náš partner máte prístup ku globálnej servisnej sieti špecializovaných odborníkov, ktorí sú tu vždy, keď ich potrebujete, aby ste zo svojho zariadenia vyťažili maximum. Naša ponuka zahŕňa celý rad služieb a školení na podporu spoľahlivej a dlhodobej prevádzky.
Vďaka našim rozsiahlym skúsenostiam s producentmi palmového oleja môžeme poskytnúť aj jedinečné odborné znalosti na zlepšenie výkonu rotačných zariadení používaných pri výrobe palmového oleja. Naši servisní technici vám na základe poznania vašich procesov môžu poskytnúť usmernenia týkajúce sa správnych servisných intervalov na zabezpečenie nepretržitej efektívnej výroby. Vďaka servisným strediskám v hlavných regiónoch produkcie palmového oleja sme vždy nablízku, aby sme vám mohli poskytnúť rýchly servis a riešenie problémov, keď to potrebujete.